Vacancies
Junior Co-ordinator
Full Time
Hamilton City Netball Centre, located at Minogue Park in Forest Lake, is the Waikato's largest netball centre. Grassroots netball is provided to 5500+ members from primary school age through to adults. In season over 270 games of netball are played over 5 days each week on 21 courts. Programmes are delivered to the community in the form of Skill Sessions, Development Camps and Coach and Umpire education.
The landscape of sport is ever-changing in the modern world and the Centre is in a great space to have a strong future with newly resurfaced courts and renovated buldings and amenities.
There is an opportunity for a junior/youth sport minded person to join the team to develop, co-ordinate and manage Hamilton City Netball Centre's junior programmes and events (Year 1-6)
The Candidate:
Hamilton City Netball Centre is people centred, so a strong ability to communicate effectively and appropriately in all situations with diverse groups of people is a must.
Strong attention to detail with well developed planning abilities will ensure success in this role.
A self motivated multi tasker who sees problems as a chance to provide solutions will deliver the development opportunities as well as the traditional game to a high level.
A netball background is an advantage but is not necessary as long as grassroots sport is a passion and is well understood.
Understanding of the challenges and issues faced by the modern child and youth in sport will allow successful programmes and opportunities to be implemented successfully.
Knowledge of education systems as they relate to sport will be a distinct advantage.
Job Details:
Role could be full time or 30 hours per week dependent on candidate – Days and hours are dependent on the time of the season with some weekends and evenings required to meet the needs of netball and the role. There is a large degree of flexibility in the role to work around family life.
Please provide a cover letter and resume with relevant experience and qualifications to manager@netballhamilton.org.nz
Job Description at bottom of this page.
Applications close 19 November 2022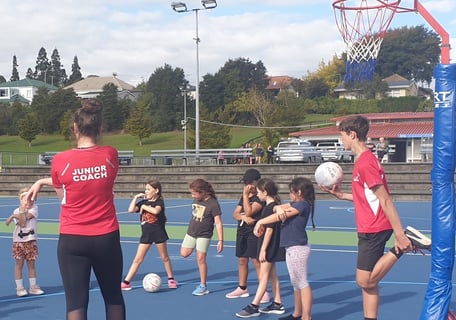 Junior Coaches
Casual
JUNIOR COACHES WANTED!
Would you like to come and help coach in our futureFERNS programmes working with Year 1-6 kids?
Paid positions available with full training on Tuesday, Wednesday and Thursday. Hours vary between 3.45pm and 7.30pm. Hours also available during school holidays.
Contact Irene at development@netballhamilton.org.nz for further information