Poipoia te Manawa Aparrel is available to order for anyone attending a programme or supporters.
To order please complete the uniform tab at time of Registration
OR
email admin@netballhamilton.org.nz with Name of person; Hoodie or Tee; Size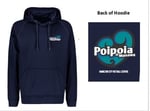 $40
Sizes
Please note the Tees do not have a v-neck as shown. Sizing chart is accurate for shape.